Be Story Free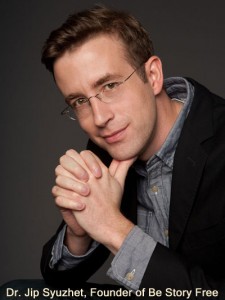 "Be Story Free" presents itself as the world's first and only "Story Addiction Destruction Seminar." Using a system of public performances and confessions created by the movement's founder, Dr. Jip Syuzhet, the Be Story Free Brigade brings its attempt to break free of the shackles of story into homes and theaters in an effort to renew their anti-faith and to awaken people to the paralyzing effects of narrative addiction.
As the seminar's materials declare:
Face it. You are a story addict. The shows, the status updates, the gossip, the devices, the rationalizations, the plans. You can't live without it. It's all you are, and it's completely beyond you.
It's time for you to BE STORY FREE®!!!
How?
Just come to this Be Story Free® Seminar and experience the liberating power of the Be Story Free® Brigade as led by Be Story Free® founder Dr. Jip Syuzhet.
Through participation in the Be Story Free® Program, story addicts from around the world are finding freedom from the crippling, prenatal, pervasive invasion of story into their minds, relationships, wallets and lives by ridding themselves of the noxious, uninvited, impoverishing influences of…
– a paralyzing need for absolute, irreversible change;
– the regressive belief in an external, charismatic evil;
– the fascistic reliance on "sole protagonist selfism"©;
– spurious, time-consistent, cause-and-effect dependencies;
– the life-limiting demand for explanation and meaning;
– personal relationships with depersonalizing conglomerates;
– years and years of emptiness, lies and false connections.
If you think story is just something your parents told you to put you to sleep, you're right. And it's still happening to this day. Everywhere, all the time, through every imaginable method, your unchosen moral supervisors are infesting your soul with stories to "put you down."
Don't let them do it anymore. Rise up. Be free. Rid yourself of story. After all, "There's more to the world than 'In a world…'"©
This play can be performed with as few as 6 people with cross-casting.
It was produced by Inverse Theater for two weeks at The Home Of in NYC. That production's page is here.
Here's what some people said about the workshop version they saw at The Home Of:
All I can say is, I moved to NYC to have theatrical experiences like those which you provide…and you can quote me.
Matt Ehlers
While I'm sure not everyone was fortunate enough to have stumbled upon Be Story Free as I did that night–on a whim, having followed a friend's offhand gibe over happy hour about some rumored "support group" for story addicts–just to witness what unfolded within that unsuspecting backroom of a Brooklyn rowhouse one was fortunate enough.
Then again, that word, "witness", it feels awfully inappropriate; only halfway through the first act could I safely conclude that I'd accidently happened not upon some meeting of Storyholics-Anonymous but rather a theater whose fourth wall they hadn't merely removed with presumptuous post-modern irreverence, but set directly under the spotlight where it would remain from curtain rise to curtain call (that is, were there a curtain to do so). A sharp and well-versed cast spent the entire evening straddling that very wall and its uncertain shape, fondling it, screaming at it, lamenting and savoring its very grip upon them–upon us–the same way an alcoholic does their own thirsty affliction.
In a time when entertainment has stretched beyond the stage and now beeps and flashes within our pockets and purses and even on screens mounted above public urinals, the question of the fourth wall has become far from obsolete but, as Be Story Story Free makes vividly and captivatingly obvious, more pertinent, complex and misunderstood than ever before.
At times dense in its philosophical musings and overwhelming in a phantasmargoria of rapid vignettes, video projections and live musical accompaniment, Be Story Free's medium suits well its message and insists that one return; even if a certain verisimilitude of happenstance is lost the second time around, still, I hope to have another chance to witness–or rather take part in what unfolds upon what might be called, as I've yet to come up with a better term for it, a stage.
Evan Wiig
–
I attended "Be Story Free" twice. I thought it was one of the best Bromley plays ever (and I have attended nearly all). The entire premise was ingenious, thought provoking and relevant to the lives of all…the manner in which it was presented (as a "self-help" seminar) was extremely clever. I loved the videos and felt that they tied the words together and clarified the concept at yet another level. The acting was exceptional. Highly recommended!
Barbara Poe
–
– unlike any avante-garde theatrical experience I've ever had
– exhilarating, baffling, and a whirlwind of an adventure.
– a linguistic labyrinth that takes the audience to the startling realization that is harder to shake off than an St. Patrick's Day hangover.
– seeing the performers startled by the semi-random assignments of scenes/monologues was genius and increased the stakes for me as a viewer.
Charles Hendrics