Icarus and Aria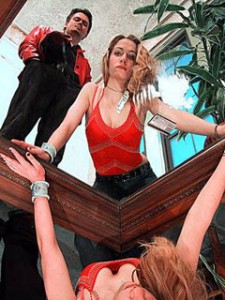 "For at least a taste of what it must have been like to see Shakespeare in his own time, you couldn't do better than Kirk Wood Bromley's Icarus and Aria." – Joshua Tanzer, OffOffOff.com
Icarus and Aria is a Romeo-and-Juliet style play that tells the tale of the fatal love between Icarus Alzaro and Aria Jones. Here's a great write-up about it from a 2012 production at Kenyon College that largely explains the plot and vibe:
"Icarus and Aria came alive onstage like no other play I have seen at Kenyon, each scene more explosive and affecting than the last. If Icarus and Aria indicates the turn future Kenyon College productions will take, theatre-goers have a great deal to anticipate." – TheKenyonCollegian.com, 2012
Written in iambic pentameter, the play is set in Phoenix as top draft pick and quarterback Icarus Alzaro joins an expansion football team but then elopes with Aria Jones, daughter of the team's owner, the wild and crazy Jimmy Jones. The couple is hounded by the media, police, and relatives, including Icarus's older brother, Primalo, el jefe of the Latino drug gang El Imaginero.
Shakespeare's Romeo and Juliet is the inspiration for the play, and the contemporary verse play is "a great production to direct on the college level," said director and assistant professor of drama, Kevin Rich. Comparing Bromley to Shakespeare, he says "In Shakespeare, all of the characters are poets. They're all speaking in poetry that they're making up on the spot. It's not 'Old English.' It's new English – edgy, fresh, vibrant. I think this play is very much in that spirit."
With "scenes crashing one into another," some verse in Spanish adds to the diverse texture of the play. Elements of Greek tragedy are interwoven, including a chorus of television reporters. Drama major Faith Servant '13 of Birmingham, Alabama, plays Aria in the cast of twenty-one. The role is a challenge "mostly because the play is written in verse," she said. "While I have experience with classical acting, it's a different type of verse acting. Putting contemporary language into verse is pretty weird but it's beautiful." The lead characters experience "this deep, passionate, raw love – and it does end tragically," Servant said.
Hector Marrero '15 of the Bronx, New York, plays Icarus, a football player with gang connections. "He really wants to get out of that gang," Marrero said. "And when he meets Aria, it's love in its truest form. He gives up everything he has. It's a great story – a new twist on a classic tale. The cast is really diverse. I've never worked with such an amazing cast."
The play won the "Best of Fringe" award at the New York International Fringe Festival in 1997.
Icarus and Aria requires a large cast, but can probably be done with around 15 actors with cross-casting.
It was produced by Inverse Theater in NYC, and that production's page is here.