The American Revolution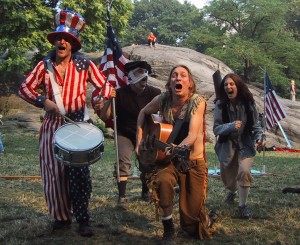 This hilarious and historical patriotic parade (Music! Comedy! Battles!) follows General George Washington on his quest to defeat the British Empire and secure independence. Along the way, he confronts Redcoats, Tories, Hessian mercenaries, mutinying generals, a bankrupt Congress, spies, and Benedict Arnold. He is joined by the world's most incompetent and endearing troop of new recruits – The Rebel Mess. These rambunctious Yankees tumble through the colonies chasing freedom, dodging bullets, making song, and discovering what it means to be an American.
This play can be done with as few as 15 actors with cross-casting.
It has been produced several times by Inverse Theater in NYC and Bad Epitaph Theater in Cleveland. The former production's page is here.