The Burnt Woman of Harvard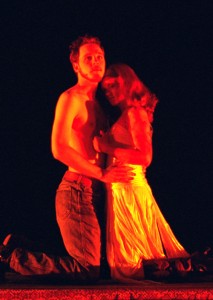 "The Burnt Woman of Harvard, aka Transcendental Pornography" tells the story of several new Harvard undergrads – Mark, Alex, and Clara – who get mixed up in the life of John Brown, a party-mogul who owns the "Beauty Shop" off-campus, a place for all-night raves, philosophical role-playing adventures, and sexual exploration. When a deranged burn victim named Megan starts stalking Mark and he later discovers that she was scarred some years ago in an act of auto-erotic immolation with John Brown, things get even wilder, and John ends up reuniting with Megan in a fiery inferno of suicidal ecstasy as they attempt to overcome the Keatsian struggle between the truth of beauty and the beauty in truth.
This play can be done with 10 actors with some cross-casting.
It was produced at Soho Rep in 1993 and at Clemente Soto Velez in NYC in 2001. That production's page is here.