Want's Unwisht Work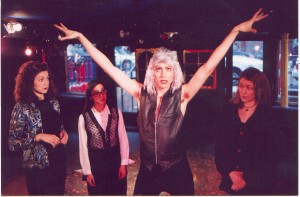 When Elisa comes home tired from work, she learns that her husband, Richard, has written a play for her birthday that he'd like to do for her. She reluctantly agrees. Richard and his friends then perform a play about a group of young women (Corme, Marla, Lydia) who start a house of feminist studies under the guidance of their mentor, Bertha Lerner, into which men are not allowed. But, of course, where there's a wall there's a way. First, Professor Lerner has exempted her therapist, Dr. Marvin Kling, from that restriction, and he brings along his pupil, Erad, both of whom cause romantic havoc. Two of the young women's boyfriends, Warren and Leavus, dress up as women to gain access to the house. A group of locals called The Rambling Fanatics do all they can to get inside. And the attic is infested with Vazoline, Richard's cross-dressing alter ego. When a troupe of Birthday Gram actors show up at the door to wish Corme happy birthday, the whole scenario comes toppling down in a comedic explosion of chastisements, confessions, and blueberries.
This play requires a cast of 14.
It was produced several times by Inverse Theater in NYC, Sacred Fools in LA, and Wesleyan University. Its Inverse production page is here.